WE DO MUSIC...EPICALLY.
The JOSIAH BRYAN studio writes and produces music in a wide variety of genres, including cinematic orchestral pieces, internationally-themed soundtracks, electronic dance music, introspective piano solos, and lighthearted background music. Josiah Bryan has had the opportunity to work with film directors on multiple projects, both from scoring and technical perspectives, and he loves how music and film combine to convey thoughts and emotions. It's partly because of this love that he licenses music for multimedia purposes on AudioJungle.net under the name "PathFollower," in addition to directing his own videos on occasion.

We're located in Columbia, Missouri, in the middle of the state, which is centrally located in the heart of the U.S., making us easy to reach. And if you don't live close by, we can collaborate from around the world through the internet. Our services include custom music composition and sound design for film production, and we have a growing library of music available for licensing. If one of our tracks is not available on AudioJungle, feel free to contact us to discuss licensing options. And even if you're not currently working on a project that requires music or sound design (or just a spare hand), we enjoy connecting with directors, composers, music producers, and artists. So whether you have an audio project that you want to collaborate on, a musical talent you'd like to share with us, a similar passion you want to bring to our team, an idea, a suggestion, or a critical ear to help us improve - don't hesitate to contact Josiah at josiah@josiahbryan.net.
WHO WE ARE: The founder of the studio, Josiah Bryan, became interested in music at a young age, taking piano lessons from the age of 7 until he was in college. He began by studying classical piano, then started learning jazz in junior high school, and played in jazz bands from junior high till he was in graduate school. He served for five years as a contemporary worship pianist at a local church and has played at numerous weddings and public events as a soloist, in small ensembles, and in big bands. In college he took classes in jazz improvisation and jazz harmony & arranging, giving him experience arranging for small and large ensembles. He loves soundtracks and combining music with film and now composes and produces film-style music. He operates his studio from his home in Columbia, MO, where his music shares some of the diversity of the genres he listens to, including soundtracks (Hans Zimmer, John Powell, James Horner, Harry Gregson-Williams, and others), music from around the world (Celtic, Middle Eastern, Asian, Latin American, Caribbean, African, European), electronic dance music, worship music, jazz, classical, and more.
Latest news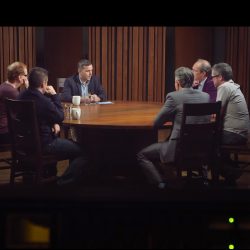 Even professional film composers are terrified by what others will think of their music, as shown by this interview. Anyone who has tried composing music (or pursuing any other art form) knows that one of the hardest things to do is share what you've spent countless hours on (and gotten quite attached to) with an Read more about Pro Film Composers Get Scared Too[…]

You're staring out the open side of a helicopter as it flies over twilit desolation. The only lights you see come from the dimming sky ahead and scattered fires below. You've never seen anything so completely and utterly destroyed. You know what you have to do, but you can't think about what lies ahead. Enjoy Read more about Proton (Proton Trilogy Part I)[…]
Previous
Next